Necklace Size Guide
Choosing the right length for your necklace is important as it helps to frame your face and compliment your outfit. Our necklace size guide will help give you a rough idea of how long a necklace is when you are wearing it. Note that our guide is an approximation only and is roughly based on the average neck circumference for a women which is around 13"/33CM.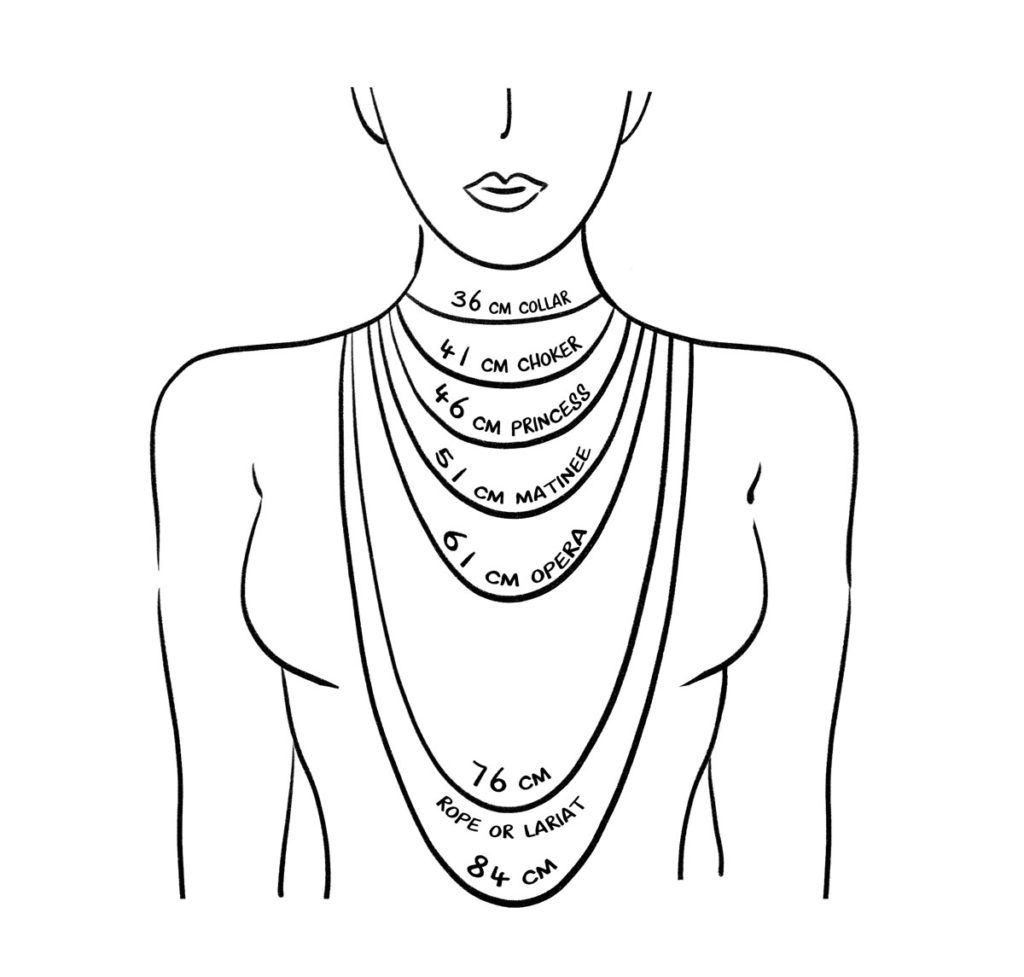 | | | |
| --- | --- | --- |
| Length | Style | Fit |
| 14"/36CM | Collar | Wraps tightly around the neck like a collar. |
| 16"/41CM | Chocker | Will generally lie round the base of the neck. If you have a wider neck, it might fit more like a collar. |
| 18"/46CM | Princess | The most common and popular choice for ladies. Fall along or just below the collarbone. |
| 20"/51CM – 24"/61CM | Matinee | Will hang around the top (22"/56CM) to around the centre (24"/61CM) of your bust. |
| 24"/61CM – 30"/76CM | Opera | Will fall below the centre of your bust but above your waist. |
| 30"/76CM & Longer | Rope/ Lariat | Will hang below your bust and to your navel and below. |
Most of our necklaces fall under the Princess style and also come with an extender so that you can adjust it to your desired length.
Bracelet Size Guide
You can measure your wrist size by wrapping a measure tape around your wrist just below the wrist bone or wherever you prefer to wear your bracelet. If you do not have a measuring tape, you can also go around your wrist with a strip of paper, mark it with a pencil and measure the length using a normal ruler.
If you want a snug fit, the bracelet size (circumference) should be 0.25" to 0.5" larger than your wrist size. For a comfortable fit, the bracelet size should be around 0.6" to 1" larger than your wrist size and for a loose fit, around 1.25" larger.
The size (circumference) of our closed bracelets are generally about 7" and fit wrist sizes up to 6.75"/17.1cm. Our open bracelets or cuffs fit most wrist sizes for women as they are adjustable. Simply squeeze to tighten.